Minority Small Business Opportunities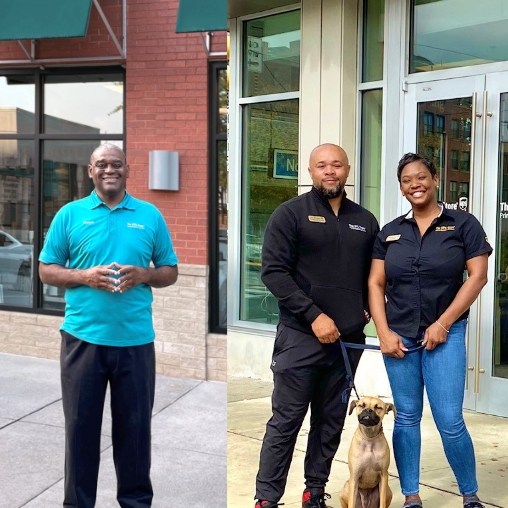 Store Stories: The UPS Store Celebrates Black Ownership
We celebrate the achievements of the following franchise owners, while also recognizing their Black-owned businesses that have made a meaningful impact in their communities.
Read More
According to a 2018 study from the IFA Foundation, 31 percent of franchised businesses are minority owned, compared to 19 percent of non-franchised businesses. The number of minority franchise owners is up 10 percent from the previous mark just five years before.
The UPS Store is proud to support and contribute to this growth in minority-owned businesses. First time buyers of a new The UPS Store® who are minorities are eligible to receive $15,000 off the franchise fee (an approximate 50% discount).  For purposes of this incentive program, a person qualifies if such person is Asian, Black, Hispanic, Native American or from the LGBTQ+ community (the LGBTQ+ community means people who identify as lesbian, gay, bisexual, transgender, queer/questioning and others who identify as same/similar gender attracted and/or transgender). 
"Our retail network of more than 5,100 stores are owned and operated by individuals who know and love their local communities," said Michelle Van Slyke, Senior Vice President of Marketing and Sales of The UPS Store, Inc. "We must be deliberate in our efforts and actions to ensure that all groups, especially those who have been historically underrepresented, have the opportunity to thrive as entrepreneurs who serve the communities they call home."
The Value of Diverse Retail Ownership on Communities
A diverse makeup of retail owners within The UPS Store network provides valuable resources for local businesses and consumers while having the opportunity to inspire others in their community to become small-business owners. For an example of how diverse franchise owners benefit their communities, check out the story of Brandon Phillips – who balances his established career as a New York City firefighter with his new one as a franchise owner with The UPS Store.
"I believe
The UPS Store
franchise has a lot to offer because it's a resource center for small businesses, and because we're locally owned and operated, it maintains that home feel like you're in a comfortable place to conduct your own business."
Is
The UPS Store

the Right Fit for You?

The UPS Store is looking for franchise owners of all backgrounds who share our values and commitment to success. Learn more about The UPS Store's commitment to providing minority business opportunities. Here's a profile of The UPS Store owners.
Passionate About Their Business
Dedicated to making their business work
Able to effectively manage time and resources
Proactive in marketing and generating sales
Enjoy Working with the Public
Understand the importance of providing outstanding customer service
Have strong problem-solving skills
Be considerate of others
Committed to Best Practices
Able to work well with others
Willing to learn new systems and procedures
Eager to contribute to overall success of the network
If this sounds like you, contact us today to learn more about minority franchise opportunities and what it takes to become a The UPS Store franchise owner.